Pre konkrétne kategórie produktov je možné nastaviť konkrétnu maržu. V prípade potreby ju možno pri jednotlivých produktoch zmeniť a produkt tak nebude podliehať nadradenej marži (marži kategórie).
---
Margin for the products in the category (%) - je marža na produkty v danej kategórii. Ak je marža zadaná, pre produkty v kategórii platí len zadaná marža, NIE nadradená. Ak je pole prázdne alebo nulové, tak je aktívna nadradená marža (kategória, v ktorej je daná podkategória alebo marža nastavená na všetky produkty, ktorú nastavujete v sekcii Settings / Eshop). Ak je však v niektorom produkte v tejto kategórii zadaná iná marža, pre daný produkt platí práve tá. Maržu je možné zadať max. s dvoma desaťdennými miestami (napr.: 20,03) v percentách.
Superior margin - priložený obrázok ukazuje, ako funguje strom nadradenej marže.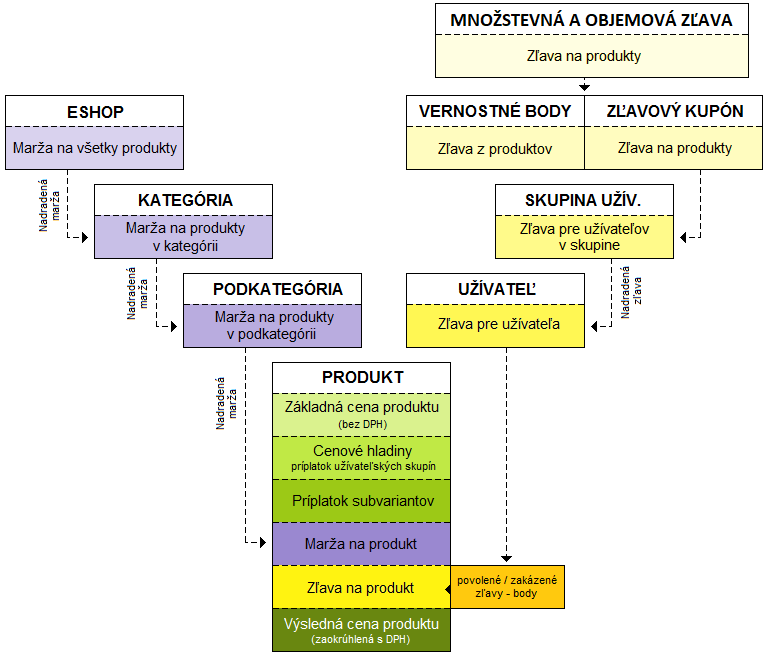 Nastavenia funkcionality nájdete v administrácii v sekcii
Products / Categories
v úprave
jednotlivých položiek alebo po kliknutí na tlačítko
Add a category
v otvorenom okne položka "
Margin for the products in the category (%)
".