Systém umožňuje v eshope vytvárať, spravovať a mazať, premiestňovať jednotlivé kategórie a podkategórie produktov. Nastaviť možno obsah jednotlivých kategórií ako aj rozbalenie stromu kategórií na jednu alebo viac úrovní. Možno si tak prispôsobiť texty, obrázky, priradiť špecifickú triedu CLASS, ktorá umožňuje ďalšie CSS štýlovanie a pod.
Informácie ako vytvoriť kategórie a podkategórie nájdete v nápovede How to create product categories and products?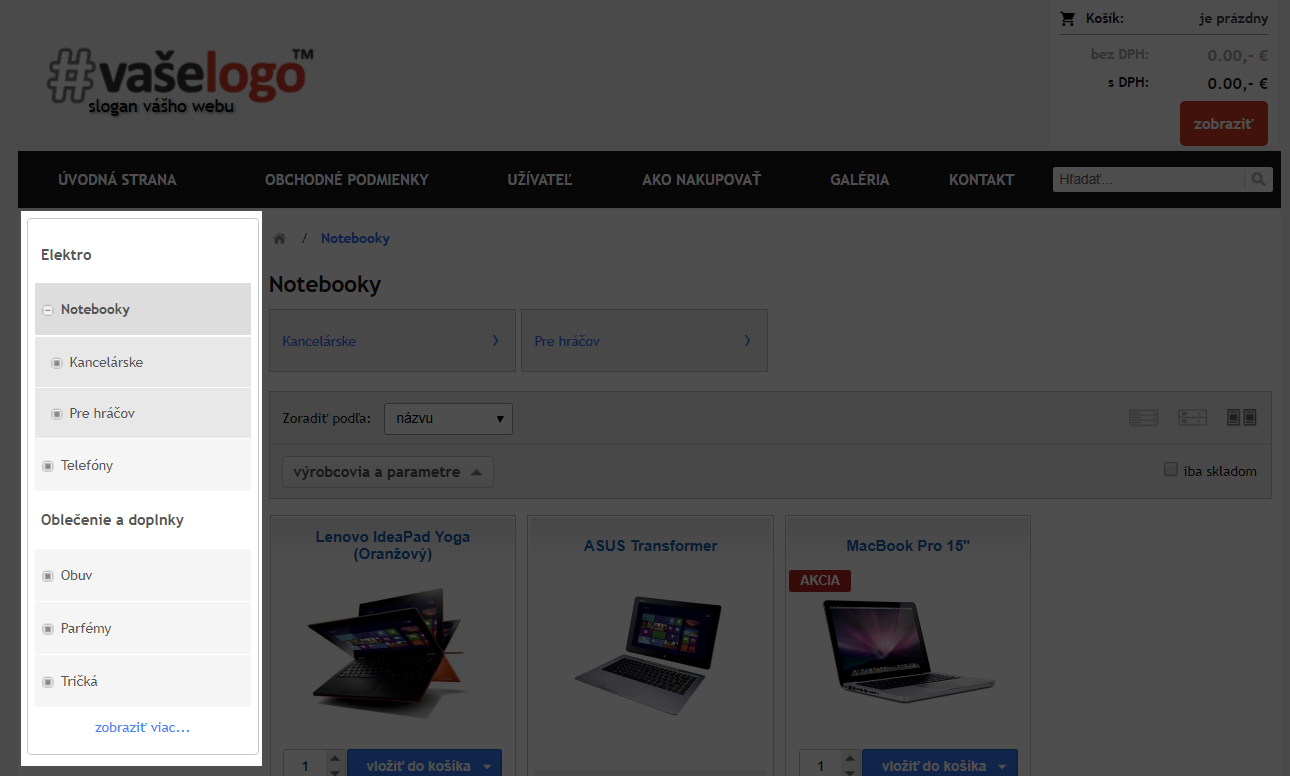 Nové kategórie vytvárate tlačítkom Add a category.
Nové podkategórie vytvárate po kliknutí na do ktorej chcete podkategóriu vložiť a následne kliknutím vpravo hore na tlačítko Add a category.
Pozície Kategórií/Podkategórií môžete ľubovolne meniť po nabehnutí myšou na ľavý stĺpec a následne danú kategóriu chytiť a presunúť na požadovanú pozíciu.
Maximálne je možné vytvoriť 4 úrovne kategórií. Teda napr.: Počítače / Notebooky / Ultrabooky / Dotykové.
- Aktívna, zobrazujúca sa kategória. Aktívny parameter pre danú kategóriu.

- Neaktívna, nezobrazujúca sa kategória. Neaktívne, nezobrazujúce sa sú aj jej podkategórie. Neaktívny, nezobrazujúci sa parameter.

- Aktívna, zobrazujúca sa sekcia (oddeľovač) kategórií.